Visually enhance your floor plans
✓ Showing scale and available space
✓ Visually improving marketing material
✓ Helping prospective buyers to understand the property layout
3D Floor Plans are an enhanced, more attractive alternative to 2D sales floorplans.
The computer generated images show an entire floor plan in 3D allowing prospective buyers to better understand the interior layout, specification and finishes. Choose either angled views to showcase specific areas, or a top-down view looking directly down onto the property layout.
"Not only are 3D Floor Plans more visually eye-catching than 2D flat sales plans, they're also easier to read and understand. They show scale and give a much better

impression of the available space, as well as giving an immediate overview of the layout of a property."
Using 3D Floor Plans takes away the guesswork of how an interior layout looks and works, which is great for enticing prospective buyers. They're perfect for helping visualise what an interior looks like with furniture and fittings within the space.
The service we receive from Blue Cube Studios is friendly, professional and, given a deadline, they are able to deliver! The Property CGIs and 3D Floor Plans produced for us by Blue Cube are so good they are often mistaken as photos and we receive many compliments on the artwork they provide.
​
Jane Jones - Landex Ltd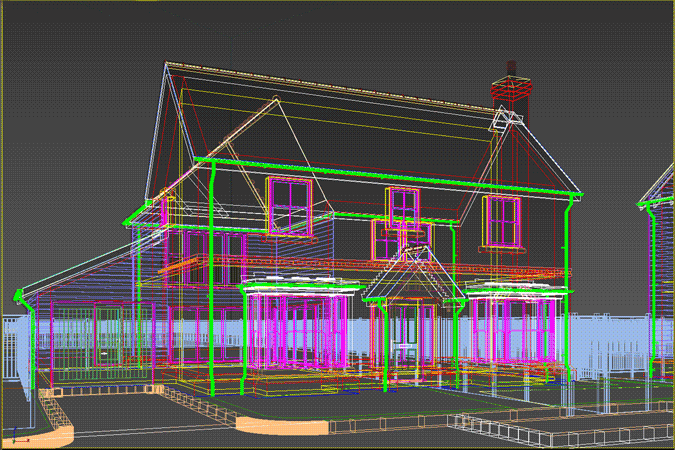 To create 3D Floor Plans, the process is:
1: Use the architect's CAD drawings to create the basis of the 3D Floor Plan.
​
2: Using specification, manufacturer's information, or reference photography we add the kitchen and bathrooms.
​
3: Interior specifications are added to the plan to illustrate floor finishes, along with furniture and a few props to give the sense of scale and lifestyle.
​
4: A render of the plan at an angle, or top-down, is sent to you for review.
​
5: Following any technical or marketing comments, we amend the render and re-supply for a final review.
​
6: The final version is rendered at ultra high resolution to truly appreciate the level of detail included.
FAQs
What information is needed to obtain a quote for production of a 3D Floor Plan?
---
Usually just the floor plans are required, or a list of required images. It's also useful for us to establish what level of interior design or detail you want us to provide.
---
What information is needed to carry out the production of a 3D Floor Plan?
---
We need the floor plans, room sections and elevations for each area. These drawings should be in CAD format (preferably DWG format). We also need the construction specification for the interior first fix and second fix finishes. Kitchen or Bathroom specifications and drawings if necessary, and finally any interior styling references if appropriate.
---
How many sets of amends can we make to a 3D Floor Plan?
---
Our costs usually include two sets of amends. We allow for two rounds of comments or feedback sessions during a usual project. It's worth noting that 'design changes' are not usually included in these costs. If design changes are made to any part of the project that we've already worked on, then we will just add the cost of making those changes to the final invoice. We will let you know in advance of these charges, if they occur.
---
How long does it take to produce a 3D Floor Plan?
---
A typical two-storey building, consisting of two 3D Floor Plans will take around 3 days.
---
What format are 3D Floor Plans supplied in?
---
3D Floor Plans are supplied in PNG format, with the white background set to transparent. This means that the 3D Floor Plans are cut-out ready to be placed on any background or brochure layout.
---
How do you deal with the interior styling for the production of a 3D Floor Plan?
---
Our clients will consider one of three methods; supply interior design documents, supply reference photos from similar or previous projects, or ask us to use our own interpretation.
---
Can you incorporate interior design information from mood boards?
---
Yes, our clients often supply us with interior design mood boards (PDF format), which we can then emulate. We can also supply professional interior design if required, at additional cost.
---
Can you produce a 3D Floor Plan without an interior design specification?
---
Yes, we can use our own experience and artistic licence to add furniture and styling to the interior.
---
What furniture and fittings can be placed into the 3D Floor Plan?
---
We have a vast library of 3D models and access to even more libraries if needed. Our costs allow for using similar furniture, matching as closely as possible from our library. If you need specific furniture, there would be an additional fee for modelling this.
---
Can you replicate the details of kitchen and bathroom specification/designs in the 3D Floor Plan?
---
Yes we can use kitchen manufacturer's drawings and bathroom specifications to accurately reflect the final look of the property.
---
---