Showcase your design proposals with realistic imagery
✓ Supporting planning applications
✓ Accurately portraying a development within its surroundings
✓ Gives scale, depth and realism to imagery
Merge computer generated imagery with photographs of your proposed development site. Using either a professional architectural photographer, or existing photographs of the site location, we create realistic imagery that presents your development design within its proposed location. The final image is made up of both real photography and the new proposal design, matched to look like it's part of the original photo.
An excellent tool for planning applications as the photomontage CGI shows your design proposals in context with its immediate surroundings. They leave very little room for interpretation when it comes to assessing the impact a set of buildings might have on their surroundings.
Photomontage CGIs are realistic images that can:
Be extremely important for supporting planning application
Present very believable imagery for marketing purposes
Show a development accurately set within its surroundings
We would highly recommend Blue Cube Studios for high quality property CGIs or photomontage CGIs. They produce excellent results and offer a timely and professional service, working collaboratively with the design team. Having experienced architectural members of staff enables them to achieve very high standards of accuracy, not to mention realism.
​
David Rose - ADP Architects & Town Planners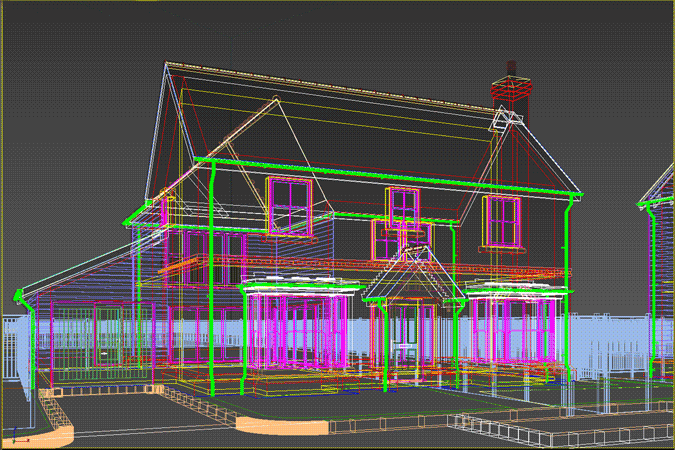 The process for creating Photomontage is:
1: The required angles are agreed with you and marked on a location plan for the photographer.
​
2: Photographs are taken from each of the locations with several variations of angles and positions for each location. Each of these positions are added to the location plan at the time of capture.
​
3: A 3D model is created of the proposed development.
​
4: Known points of interest that can be seen in the photo are added to the 3D model using survey data for position and height.
​
5: A virtual camera is positioned within the 3D model at the location points at the correct height and angle used to produce the original photographs.
​
6: Materials are applied to the buildings and scene lighting is added to match the conditions in the photographs.
​
7: A computer-generated image is rendered and overlain onto the original photograph to check positioning. A composite of the rendered image and original photograph is created to complete the photomontage CGI for your review.
​
8: Following any technical or marketing comments, we amend the render and re-supply for a final review.
​
9: The final version is rendered at ultra high resolution to truly appreciate the level of detail included.
What information is needed to obtain a quote for production of an Exterior Property CGI?

Usually a site plan and some indicative elevations will be enough to quote from. Then just a description or a list of the exterior property CGIs or images you need.

What information is needed to carry out the production of an Exterior Property CGI?

We need the site plan, floor plans, and elevations for each building you would like us to render. These drawings should be in CAD format (preferably DWG format). We also need the materials schedule and landscaping drawing, which can be CAD or PDF format as these are just for reference.

Do you charge extra to work from hand-drawn drawings or sketches, rather than CAD files?"

Yes, we usually charge an additional 25% to cover the additional time it takes when working from hand-drawn information, rather than CAD drawings.

How many sets of amends can we make to the Exterior Property CGI?

Our costs usually include two sets of amends. We allow for two rounds of comments or feedback sessions during a usual project. It's worth noting that 'design changes' are not usually included in these costs. If design changes are made to any part of the project that we've already worked on, then we will add the cost of making those changes to the final invoice. We will let you know in advance of these charges, if they occur.

What is the difference between amends/comments, and chargeable 'design changes'?"

An example of amends/comments would be something we have interpreted differently than you intended, for example; changing the tone of the brickwork. Design changes are where the drawings/designs of the building have changed after we have carried out the work. For example; we have modelled a building, but then we are sent a new/revised drawing that shows a different window arrangement.

How long does it take to produce an Exterior Property CGI?

A single house type CGI would take around 2 days, a batch of 10 house type CGIs would take 10-15 days. A streetscene CGI would take around 3-4 days.

Can we change the viewing angle for an Exterior Property CGI once it has been produced?

Yes, we change the camera angle very quickly and have a very responsive workflow. We model everything in the scene, rather than use photoshop to fake foliage and other realistic objects and effects. This means that changing the angle can be done retrospectively, without having to carry out hours of post-production all over again. This also means that we can provide 3D Animations at a later stage.

Can you work from partially designed or conceptual information?

Yes, we can work from hand-drawn architect's plans or conceptual sketches. We are architecturally trained and have over 25 years experience in architecture. This helps us fill in the gaps and help visualise our client's vision. Our process and costs for this are a little different so please contact us for further information.

Can we request further views/images further down the line into a project?

Yes we are able to provide additional images/angles after we have completed the initial project. Thanks to our unique way of working, we are able to supply supplementary imagery, or even 3D Animation content, at very short notice.

Is there a saving if we instruct multiple Exterior Property CGIs from the same project?

Absolutely! We have a very efficient way of producing our Property CGIs, and one of the main advantages of the way we work, is the ability to provide multiple images and content from a project. This means that our clients get even more value. This is especially true of our tailored CGI bundles, click here for more information.